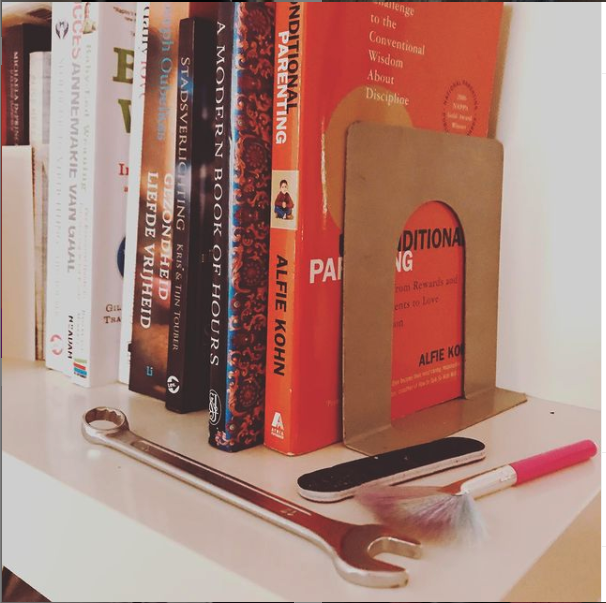 "Alles heeft zijn plehèèk!", dat hoor je mij hier in huis met regelmaat zeggen…roepen…euhm schreeuwen? Als ik weer eens een steeksleutel in de boekenkast zie liggen, een boterhamtrommel in de bak voor de drinkbekers of ja, het tosti ijzer op de vloer van de keuken – in afwachting van iemand die 'm weer naar de trapkast verhuist.
Ik HOUD van orde en structuur. Mijn directe omgeving vindt dat 'typisch Mariëm'. Ben er ook allang achter dat niet iedereen floreert of überhaupt functioneert in een geordende omgeving. Sommigen hebben die behoefte nou eenmaal niet – Welcome to my family!
Ze hebben er geen behoefte aan… tót dat ja! Tot dat…er iets gezocht wordt.
"Schat, weet je waar mijn sleutels liggen?"
"Mama, waar ligt mijn Elsa jurk?"
Bij de eerste is het vaak. "Ja hier, waar ze hóren te liggen", en bij die tweede moet ik zelf meestal ook écht gaan zoeken.
Het hebben van een gezin heeft me gedwongen om mijn hang naar orde en structuur enigszins te bedwingen – maar God wat zou het ons allemaal veel tijd en energie schelen als we alles wat we gebruiken ook weer gewoon terugleggen. Waar. Het. Hoort.
Gelukkig kan ik mijn hart ophalen in mijn werk – genoeg ondernemers die wél behoefte hebben aan structuur maar het moeilijk vinden deze aan te brengen. Of het nu gaat om samen een strategie uitstippelen, van losse teksten een geheel maken of een ontplofte administratie opnieuw inrichten – uiteindelijk ben ik gewoon een ordinaire orde-in-de-chaos-schepper, AND I LOVE THAT.
Dus heb je wat uit te zoeken, opnieuw in te richten, na te kijken of op te ruimen? Doe deze structuur junkie een plezier en laat het mij van je overnemen. Ook als het werk is wat een dagdeel of twee kost, kun je mij inhuren. Gun jezelf het uitzicht op een geordende start van het nieuwe jaar.