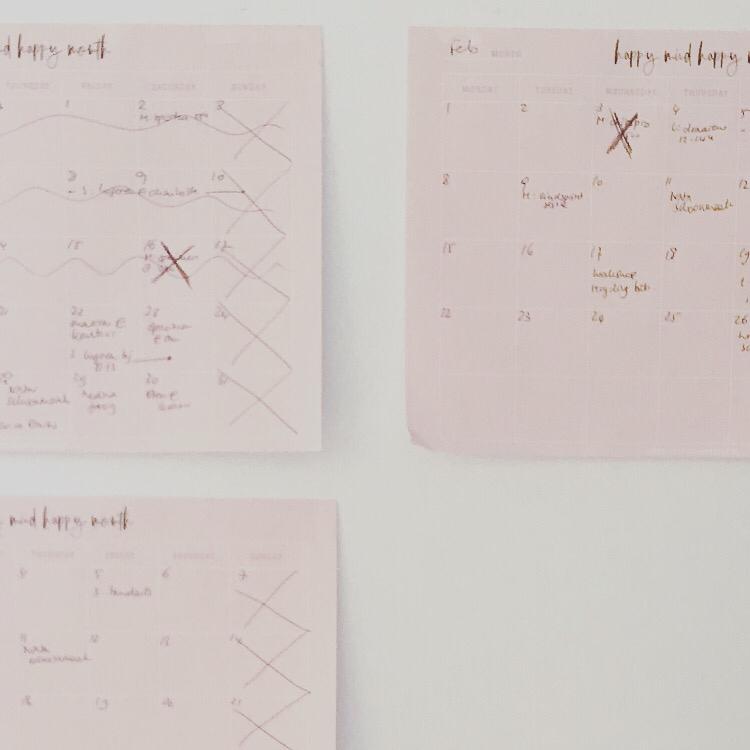 Twee of drie maanden vooruitplannen, verder lukt me niet in deze tijden. Normaal gesproken hangt hier onze jaarplanning; 12 maanden uitgeschreven. Schoolvakanties, verjaardagen, weekendjes weg – we proberen zoveel mogelijk aan het begin van het jaar in kaart te brengen zodat we a) niet overvallen worden door studiedagen of verjaardagen en b) we weten dat we als gezin voldoende tijd samen ingeroosterd hebben.
Nu is het in deze corona tijd niet mogelijk en ook niet slim om verder te kijken dan 2 of 3 maanden. 2021 is nog maar net onderweg en heeft al zoveel schakelen, bijstellen en herstructureren gevraagd – een vast ritme creëren is bijna niet te doen. Desondanks blijft het belangrijk te weten wat er komen gaat.
Het is een valkuil van mij om bij stress, drukte – in tijden waarin veel 'moet'- mijn eigen tijd dan maar opzij te zetten. In naam van het grotere geheel – ons gezin of mijn werk dus. Ik heb echter in de loop der jaren ook wel geleerd, dat dat absoluut niet het antwoord is. Mezelf wegcijferen gaat een tijdje goed, totdat… het niet meer goed gaat zeg maar 😉
Dit is dan óók een hele belangrijke reden voor het uitschrijven van de planning. Door vooruit te kijken kan ik ook mijn 'oplaadtijd' inplannen. Ik pak dit serieus aan; ik boek een hotelkamer voor één, of liever nog twee nachten.
Complete rust, voor niemand zorgen, een boek lezen, mediteren, wandelen en ideeën op papier zetten. Een tijdje niks moeten en juist helemaal niks gepland hebben. Doen wat er in het moment opkomt. Het is voor mij dé manier om te hergroeperen en energie op te doen. Eigenlijk wel bijzonder; gepland een tijdje geen plan hebben. Enerzijds de structuur nodig hebben om alle ballen hoog te kunnen houden en als tegenhanger het structuurloze om weer in balans te komen.